Transcript is below the images.
Nitpicks: Not everything in this article is accurate. Corrections:
- The Kate Bush mailing list, called Love-Hounds, didn't morph into Ecto, Ecto started as a completely separate list in June 1991.
- Happy recorded her albums at Cathedral Sound Studios in Rensselaer, NY, not Troy.
- Kevin Bartlett is an accoplished and respected musician in his own right, with over a dozen albums to his name.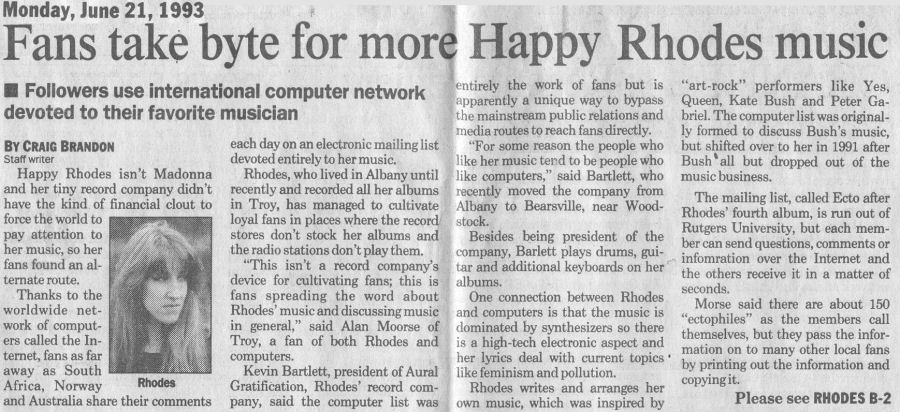 Albany Times Union (Capital Region section)
Monday June 21, 1993
Fans take byte for more Happy Rhodes music
Followers use international computer network devoted to their favorite musician
By CRAIG BRANDON Staff writer
Happy Rhodes isn't Madonna and her tiny record company didn't have the kind of financial clout to force the world to pay attention to her music, so her fans found an alternate route.
Thanks to the worldwide network of computers called the Internet, fans as far away as South Africa, Norway Rhodes and Australia share their comments each day on an electronic mailing list devoted entirely to her music.
Rhodes, who lived in Albany until recently and recorded all her albums in Troy, has managed to cultivate loyal fans in places where the record stores don't stock her albums and the radio stations don't play them.
"This isn't a record company's device for cultivating fans; this is fans spreading the word about Rhodes' music and discussing music in general," said Alan Moorse of Troy, a fan of both Rhodes and computers.
Kevin Bartlett, president of Aural Gratification, Rhodes' record company, said the computer list was entirely the work of fans but is apparently a unique way to bypass the mainstream public relations and media routes to reach fans directly.
"For some reason the people who like her music tend to be people who like computers," said Bartlett, who recently moved the company from Albany to Bearsville, near Woodstock.
Besides being president of the company, Bartlett plays drums, guitar and additional keyboards on her albums.
One connection between Rhodes and computers is that the music is dominated by synthesizers so there is a high-tech electronic aspect and her lyrics deal with current topics like feminism and pollution.
Rhodes writes and arranges her own music, which was inspired by "art-rock" performers like Yes, Queen, Kate Bush and Peter Gabriel. The computer list was originally formed to discuss Bush's music, but shifted over to her in 1991 after Bush all but dropped out of the music business.
The mailing list, called Ecto after Rhodes' fourth album, is run out of Rutgers University, but each member can send questions, comments or information over the Internet and others receive it in a matter of seconds.
Morse said there are about 150 "ectophiles" as the members call themselves, but they pass the information on to many other local fans by printing out the information and copying it.
Besides chatting about Rhodes' music, he said, they have transcribed the lyrics of all her albums and stored them in a data base so new fans can look them up and print them out.
While Aural Gratification is not directly connected with the Ecto mailing list, the computer fans have had their voices heard.
Rhodes' earlier albums were available only on cassette but were re-released on compact disk after the Ectophiles said they would buy enough of them to make the venture profitable.
"Like millions of music fans before them, they recommended this little-known artist to others, both verbally and electronically," said Moorse."
Bartlett said Rhodes' concerts often turn into parties as fans who have communicated over the Internet, but never met, finally get to listen as well as read their comments.
While the mainstream music press has not caught on to this new method of spreading the word about an artist, it does seem to be working, he said.
Sales of Rhodes' albums have reached 20,000 and there are tiny pockets of America where she is a genuine star.
Station WXPN in Philadelphia named "Feed the Fire," a Rhodes song from "Warpaint" the No.1 requested song of 1991.
"Happy Rhodes sounded as good as and more interesting than many, well-known artists," said music director Mike Morrison. "When we played cuts from her album our listeners went crazy."